Research Members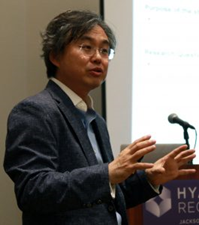 Ikseon (Ike) Choi, Ph.D.

Dr. Ikseon "Ike" Choi is a professor in the Learning, Design, and Technology Program at the University of Georgia, where he teaches graduate courses in learning theories, real-world problem solving and reasoning, learning environments design and evaluation. Since receiving his Ph.D. at Pennsylvania State University in 2002, he has been leading a series of innovative research and development projects for case-based learning and real-world problem-solving in higher education. Through his multi-disciplinary collaboration with leading scholars in the areas of human medicine, veterinary medicine, pharmacy, nano/bio-engineering, agricultural science, food and nutrition science, computer science, and teacher education, he explores the uncertain nature of various types of ill-defined, real-world problems, identifies individual and environmental factors influencing learning and real-world problem solving, and investigates effective ways of promoting and evaluating the development of learners' real-world problem-solving abilities. His research has been acknowledged by receiving over ten national awards, including the Outstanding Journal Article Award (2016), the Outstanding Practice Award (2005 and 2007), and the Jerrold Kemp Endowed Lecture Series Award (2013 and 2015) from the Association of Educational Communications and Technology (AECT). He has been an invited speaker at national and international conferences, including E-Learn, Global HR Forum, Information Technology in Education, E-Learning Korea, Asia-Pacific Joint Conference on Problem-Based Learning, Korean Society for Simulation in Healthcare, and at various universities around the globe. His current research interests include: real-world problem solving and reasoning, case-based learning and assessment, program evaluation, and instructional simulation and virtual reality.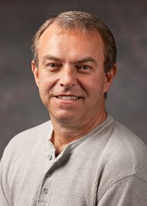 Jay Rojewski, Ph.D.
Dr. Jay Rojewski is a professor in the Workforce Education Program at the University of Georgia, where he teaches graduate courses in career development and decision-making, workforce preparation in the 21st century, and research design-methods-analysis. He received his Ph.D. in 1990 from the University of Nebraska-Lincoln. Dr. Rojewski's primary research focus examines the career behavior of children and adolescents, and preparation for the transition from school to work and adult life.
Dr. Rojewski has (co-)authored or (co-)edited 4 books, 18 book chapters, 15 monographs, over 100 referred articles, and numerous technical reports. He has mentored 41 doctoral students who have successfully defended their dissertation and served on numerous other doctoral committees as a member. Dr. Rojewski is a past president of the Association of Career and Technical Education Research. He currently serves on the Editorial Board of two scholarly journals, Effective Assessment for Instruction and International Journal for Educational and Vocational Guidance, and also provides reviews for a dozen other journals. He is a past editor of Career and Technical Education Research and Journal for Vocational Special Needs Education.
His current work is focused on two connected areas of study; (a) structuring career preparation programs that anticipate the changes technology is exerting on the fundamental nature of work and life, and (b) finding ways to enhance personal agency and support the career navigation of professionals with limited career expansion or promotion opportunities.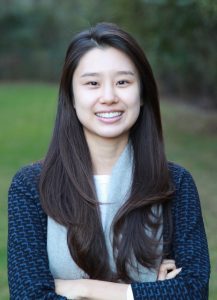 Jasmine Sookhyun Choi, MAT & M.Ed. | portfolio
Educational Background: Child and Adolescent Development (B.A.), Teaching – Multiple Subjects (M.A.), Learning, Design, & Technology (M.Ed.)
Current Position: Post-doctoral Researcher in the Research and Innovation in Learning (RAIL) Lab
Research Interests: Understanding ways professionalism is developed in higher education, to develop and promote instructional strategies and learning environments that supports the development of professionalism for the purposes of societal benefits
SeJung Kwon, M.A.
Educational Background: M.A. in International Office Administration in Korea | B.A. in International Office Administration in Korea
Professional Experiences: Career Development Coordinator, the Dept. of International Office Administration at Ewha Womans University | Lecturer, taught computer-related courses; Business Computing, Utilization of OA Programs, and Applications for Smart Devices in the Workplace, in Korea
Current Position: Graduate Assistant in Learning, Design, and Technology
Research Interests: Office professional education, professional development in higher education, curriculum design and development, case-based learning, problem-based learning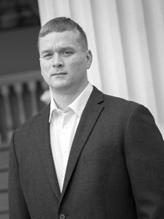 James Castle, Ed.S.
Educational Background: Ed.S. in Instructional Technology from Georgia Southern University | M.Ed. in Human Resources and Organizational Development from the University of Georgia | ABJ in Public Relations from the University of Georgia.
Professional Experiences: Former K-12 teacher and instructional technology specialist.
Current Position: Lead Instructional Designer at the University of Georgia Office of Online Learning | Doctoral Student in Learning, Design, and Technology.
Research Interests: Data-driven decision making in education and instructional design
Former Team Members 
Katie Walters, M.Ed. (2017-2019), Graduate Research Assistant, Project Manager
Yeonjoo Ko, Ph.D. (2017-2019), Graduate Research Assistant